Drivers
#6 Trevor Bayne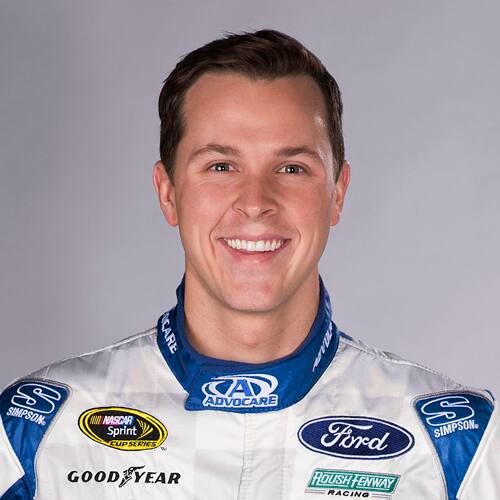 | | |
| --- | --- |
| Car | #6 Fusion |
| Sponsor | Advocare, Liberty National Life Insurance |
| Crew Chief | Bob Osborne |
| Hometown | Knoxville, Tenn. |
| Birthday | FEB 19, 1991 |
Trevor Bayne finally realized his dream of competing full-time in the NASCAR Sprint Cup Series when he drove in all 36 races for the first time last season with Roush Fenway Racing.
After a three-year absence, car owner Jack Roush brought the No. 6 Ford Fusion back to the track and put Bayne behind the wheel, where he went through some expected growing pains. Bayne managed a pair of top-10 finishes (June Michigan and July Daytona) and was running at the end of all but three events as he completed 95 percent of the laps.
Prior to getting his full-time shot, Bayne competed at NASCAR's top level on a limited basis for four years in the famed No. 21 Motorcraft Fusion for the Wood Brothers. Nobody will ever forget that tenure, which was highlighted by Bayne winning the Daytona 500 on Feb. 20, 2011 in only his second start and just one day after his 20th birthday. The win, which was the fifth for the Wood Brothers in the "Great American Race" also served as Ford's 600th all-time series triumph.
And while it would be hard to imagine a more high-profile victory, Bayne has continued to make his mark in NASCAR, whether it be in Sprint Cup or the NASCAR XFINITY Series. That was no more evident than in 2013 when another significant personal milestone was followed days later by another milestone victory. After getting married on June 4, Bayne hopped in his Roush Fenway Ford Mustang on June 9 and won the Dupont Pioneer 250 at Iowa Speedway. That not only represented his second NXS triumph, but the 200th all-time series win for Ford Racing.
Beside running his partial schedule for the Wood Brothers, Bayne competed full-time in the NASCAR XFINITY Series in 2013 and 2014 for Roush and finished sixth both times in the final point standings.
· Bayne's big NASCAR break came in 2008 when he was signed by Dale Earnhardt, Inc. as a development driver.
· The first NASCAR start for Bayne came in the NASCAR XFINITY Series in 2009 and it occurred at his home track – Bristol Motor Speedway – for car owner Jimmy Means. He was 18 years old and started 26th in the Scotts Turf Builder 300 before finishing 23rd.
· On the final week of the 2013 season, Bayne announced that he had been diagnosed with Multiple Sclerosis, but was exhibiting no symptoms of the disease and doesn't plan on letting up with his race schedule.
DID YOU KNOW?
When Trevor Bayne won the 2011 Daytona 500, he became the 17th different driver to win a NASCAR Sprint Cup Series race for the Wood Brothers.