Drivers
#38 David Gilliland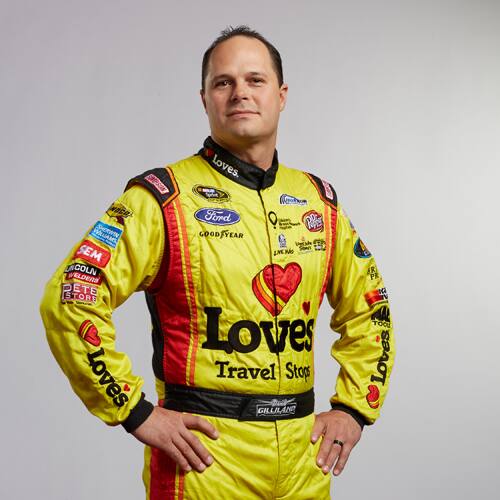 | | |
| --- | --- |
| Car | #38 Ford Fusion |
| Sponsor | Love's Travel Stops |
| Hometown | Riverside, Calif. |
| Birthday | APR 1, 1976 |
| Spouse | Michelle |
| Kids | Todd Jeremy, Taylor Nicole |
David Gilliland has been the anchor of the Front Row Motorsports program since 2010 and as he enters his sixth season with the organization he's hoping to build on a foundation that has shown steady progress and consistency under owner Bob Jenkins.
He's coming off a season that saw him register the third pole of his NASCAR Sprint Cup Series career and first with Front Row as he captured the top spot at Daytona in July. That's not surprising when you look at his record because all of his best results have come at the restrictor-plate tracks, where aerodynamics plays a major role.
Gilliland showed his superspeedway prowess right off the bat after signing with Robert Yates Racing midway through the 2006 season. He won the first pole of his career in just his ninth start at Talladega in October, and followed that up a few months later by claiming the pole for the 2007 Daytona 500.
He moved to Front Row in 2010 and played a major role in the team's first NASCAR Sprint Cup Series victory when he pushed teammate David Ragan through the field to win the Aaron's 499 at Talladega Superspeedway in May 2013. Gilliland's second-place finish that day tied a career-best (Sonoma 2008) and was one of two top-10 finishes that season.
Even though Gilliland is still looking for his first NSCS victory, he's viewed as one of the top restrictor-plate racers in the sport. Gilliland has eight career top-10 finishes coming into 2015 with four of those coming at Talladega and two at Daytona.
Gilliland came out of nowhere in 2006 to become a household name in NASCAR circles. At the time Gilliland was driving for an unsponsored, part-time NASCAR Busch Series team owned by Clay Andrews. Lightning struck and he became the first non-NASCAR Cup Series driver to win a then-Busch race in '06. Gilliland captured the Meijer 300 presented by Oreo at Kentucky Speedway in June in only his seventh series start.

Robert and Doug Yates put together the right offer and secured Gilliland as their new driver of the No. 38 Ford Fusion, replacing Elliott Sadler at Michigan in August of 2006.
David was a member of the golf team at Western High School in Anaheim, CA, where he was a teammate of Tiger Woods.
DID YOU KNOW?
David Gilliland became the fourth driver in the modern era (1972-present) to win the pole for the Daytona 500 in his first attempt when he did in 2007 with Yates Racing. The others are Loy Allen (1994), Mike Skinner (1997) and Jimmie Johnson (2002). Austin Dillon became the fifth last year.