Drivers
#2 Brad Keselowski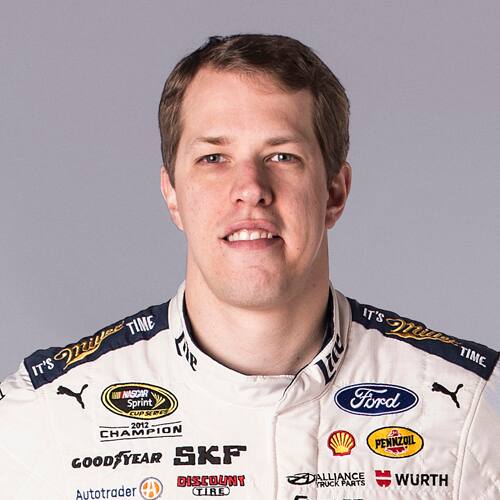 | | |
| --- | --- |
| Car | #2 Fusion |
| Sponsor | Miller Lite |
| Crew Chief | Paul Wolfe |
| Hometown | Rochester Hills, Mich. |
| Birthday | FEB 12, 1984 |
Since coming to Team Penske in 2010, all Brad Keselowski has done is win races and championships.
In his six seasons with the organization, Keselowski has won 34 races and been part of five championships between the NASCAR Sprint Cup and NASCAR XFINITY Series. He has won 28 times and captured the NXS driver's championship in 2010 while being part of a team that has helped owner Roger Penske win each of the last three owner's titles. On the NSCS side, Keselowski has won 16 times and claimed the 2012 series championship.
Keselowski won six races and ran away with the NASCAR XFINITY Series championship by a whopping 445 points over second-place Carl Edwards in 2010. He then outdueled Clint Bowyer and Jimmie Johnson to win the Cup crown by 39 points in 2012.
A Michigan native who grew up in a racing family, Keselowski wasted little time making a name for himself as he won his first NSCS race at Talladega in April 2009 in only his fifth start. He enters 2015 with 16 career Cup victories and 32 XFINITY triumphs.
Keselowski became the 25th driver to win at least one race in all three of NASCAR's top touring series by capturing the NASCAR Camping World Truck Series event at Bristol in August 2015, and is part of the first father-son duo to achieve that distinction. His dad, Bob Keselowski, won at Richmond in 1997.
Even though Brad Keselowski has only been a part of the Ford Performance family for three years, he already ranks in a tie for fifth on the all-time XFINITY win list with 14 and is tied for 23rd with Ernie Irvan on the all-time Sprint Cup chart with eight.
· Keselowski was raised in an environment where spending time at the race shop and the track was just a way of life. His father, Bob, made 86 starts over five years in the NASCAR Camping World Truck Series (NCWTS). His uncle, Ron, started 68 races at the NSCS level from 1970-74 and posted a pair of top-five finishes in that time.

· Keselowski drove the truck operated by his family's team for eight NCWTS races in 2004. The following season, he ran the full truck schedule and had a best finish of seventh, which he recorded in February at Daytona International Speedway.
· In addition to his impressive performance on the track, Keselowski does just as much off it through his Checkered Flag Foundation, which supports military personnel, first responders, and others who have made sacrifices for America.
DID YOU KNOW?
Brad Keselowski is one of only four drivers in NASCAR history to win the NASCAR XFINITY and NASCAR Sprint Cup Series championships. The others are Bobby Labonte, Kevin Harvick and Kyle Busch.