Drivers
#43 Aric Almirola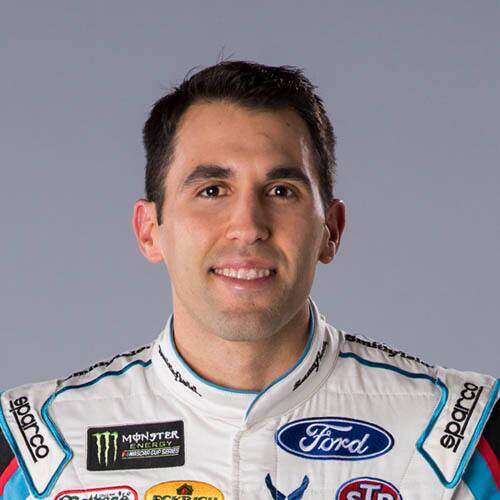 | | |
| --- | --- |
| Car | #43 Ford Fusion |
| Sponsor | Smithfield |
| Crew Chief | Drew Blickensderfer |
| Hometown | Tampa, Fla. |
| Birthday | NOV 15, 2013 |
Aric Almirola is hoping the arrival of a new series sponsor will serve as a new start for he and his No. 43 Smithfield team of Richard Petty Motorsports after a trying 2016 season saw them post only one top-10 finish.
What Almirola would like to see is a return to form that included becoming the first Cuban-American to win a NASCAR Sprint Cup Series race when he took the checkered flag in the Coke Zero 400 at Daytona International Speedway in 2014, won the first pole of his career in 2012 at Charlotte Motor Speedway, and qualified for the Chase (2014).
This will mark his sixth season driving for The King and 10th overall after competing in a limited number of races from 2007-10.
Prior to joining RPM, Almirola served as an apprentice of sorts with Mark Martin during their days together at Dale Earnhardt Inc. in 2008. He ran 12 races that season, but never ran more than nine events the next two years as he searched for a full-time opportunity. He ran five races for RPM in 2010 after the departure of Kasey Kahne and was hired one year later for the 2012 campaign.
· Almirola made his Monster Energy NASCAR Cup Series debut in a fourth car for Joe Gibbs Racing at Las Vegas and finished 41st after getting involved in an accident.
· He is credited with one NASCAR XFINITY Series victory (2007) while running with JGR and two in the NASCAR Camping World Truck Series for Billy Ballew (2010).
· Like many of his contemporaries, Almirola began racing go-karts and started when he was eight-years-old before eventually driving open-wheel modifieds at 16.
DID YOU KNOW?
When Almirola won his first Monster Energy NASCAR Cup Series race in 2014 at Daytona International Speedway he became the 79th different driver to win with Ford.