Drivers
#22 Joey Logano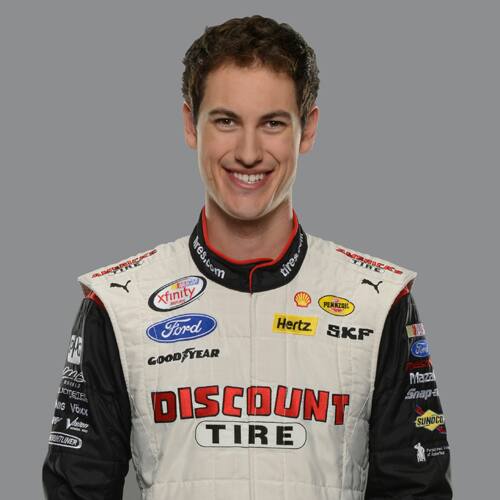 | | |
| --- | --- |
| Car | #22 Mustang |
| Sponsor | Discount Tire |
| Crew Chief | Greg Erwin |
| Hometown | Middletown, Conn. |
| Birthday | MAY 24, 1990 |
| Spouse | Brittany |
Joey Logano has officially served notice to the NASCAR Sprint Cup Series garage area that he is going to be a force to be reckoned with for the foreseeable future.
Coming off a breakout season in which he won a career-best five races and was in contention as one of four finalists to win the Chase for the NASCAR Sprint Cup at Homestead-Miami Speedway, Logano is poised to become another champion for car owner Roger Penske.
Logano dominated the final 10-race Chase last season, winning twice (New Hampshire and Kansas) while posting six top-five and one sixth-place effort. He scored more points than any driver over the final 10 events, but in the new winner-take-all format at the Ford EcoBoost 400, Logano saw his chances at the title disappear during a late-race pit stop in which the jack fell off the No. 22 Shell/Pennzoil Fusion. The end result was a 16th-place finish in the race and a career-best fourth-place showing in the point standings. That marked the second straight season Logano was Ford's highest finisher in the standings after an eighth-place effort in 2013.
In two years since joining Team Penske, Logano has won six races and qualified for the Chase both times. He has also played a role in helping the organization win the owner's championship in the NASCAR Nationwide Series the last two years driving a limited schedule.
Prior to joining Team Penske, Logano drove four full seasons at Joe Gibbs Racing, where he won two NASCAR Sprint Cup Series races and 18 NASCAR Nationwide events. He made his first Cup start with the organization at the age of 18.
Logano goes into the 2015 season with eight Cup victories and 21 Nationwide wins, which ties him with Dale Earnhardt and Harry Gant for 13th on the all-time list.
Logano earned his first major stock car victory in the USAR Hooters Pro Cup Series when he was only 15 years old, taking the checkered flag at Mansfield (Ohio) Motorsports Park in 2005. He ended that season with one win, six top-five and seven top-10 finishes in 14 starts.

Logano made his NASCAR Sprint Cup Series debut at New Hampshire Motor Speedway in September of 2008 and finished 32nd.
In 2013, Logano started the Joey Logano Foundation, which goes to "improve the lives of children and families with life-altering needs in racing communities."
DID YOU KNOW?
Logano became the youngest winner in NASCAR Nationwide Series history when he won from the pole at Kentucky Speedway just three weeks after celebrating his 18th birthday. What made the result even more impressive was that it marked only his third career start.