DEARBORN - For many Ford fans, the true beginning of the Ford car show season is when the Ford Car Club Council, in conjunction with Ford Motor Company, sponsors its annual Fabulous Fords Forever show at Knott's Berry Farm in Buena Park, California each April. For 2017, the 32ND Annual "Fabulous Fords Forever!" show at Knott's Berry Farm in Buena Park, CA, happens on Sunday, April 30th.
Billed as "The West Coast's Largest Ford Show," this yearly one-day exhibition of fantastic Fords, Lincolns and Mercurys includes just about everything under the California sun, with 57 classes covering some 1,800 entries from 1903 through 2017. This year's show is celebrating 55 years of the Shelby Cobra, 50 years of the Mercury Cougar, and 85 years of the famed Ford "Flathead" V-8 engine! For a sample of what you can to expect, check out our exclusive coverage from last year's show or even the prior year's event. The Fab Fords venue also features music, stage interviews, a great Ford display, show sponsors, celebrities and more – plus, spectators are admitted for free! It's a can't-miss auto extravaganza that you simply have to experience to appreciate. Visit the show site for more info, or click HERE to register.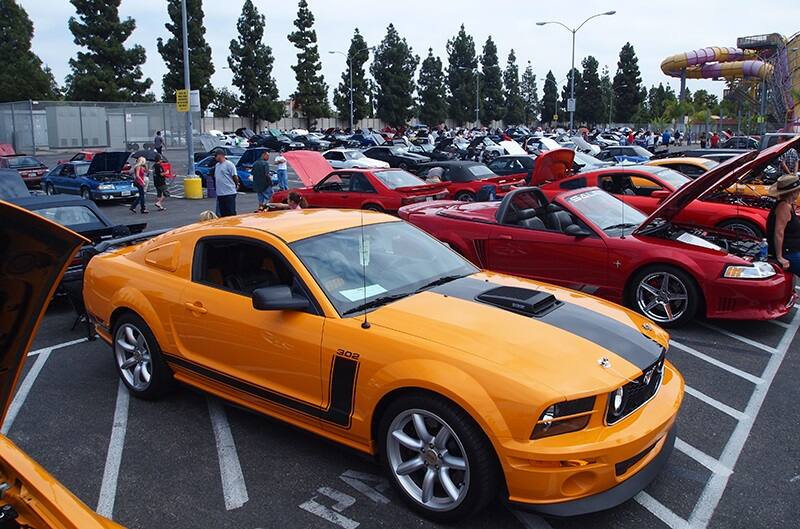 If a traditional Mustang club show is more your style, then head over to the Regency Square Mall in Richmond, Virginia, on April 29. There, the Central Virginia Mustang Club is hosting its "12th Annual Central Virginia Spring Auto Show," with show proceeds going to charity. Or if you are down in Florida that day, you can catch the Fort Lauderdale Mustang Club's "11th Annual Charity Benefit Car Show" at The Sanctuary Church in Fort Lauderdale. Details on both shows can be found on the club websites.
Another can't miss show that takes place on April 30th is the "12th Annual Mustang and Ford Spring Rally" that starts off from Tipton Ford down in Brownsville, Texas. The host South Texas Mustang Club has all the info you need to register.
If you really can't wait until the end of the month to get on the road with your Mustang, then why not saddle up this weekend? That's what we plan to do – along with the Red Mustang Registry.
The Red Mustang Registry (RMR) is an international group of some 8,200 Ford Mustang enthusiasts who not only shares a common bond of owning a Ford Mustang wearing various shades of red exterior paint, but also the enjoyment of getting together at various automotive events. "We strive not only to promote camaraderie between Mustang owners," said RMR President and Founder Steve Schatten, "but to leverage our vast network of members to give back to the community by raising money to donate to different charities."
As the club approaches its five-year anniversary and celebrates surpassing 8,000 registered members, it decided to organize its first independently hosted car show. The RMR's "Ford Power Car Show" will be held rain or shine at the Holiday Inn Express & Suites in Tipp City, Ohio, (near Dayton) on April 23rd, 2017. See the club site for show details; Ford Performance will be there, so make sure to stop by our Meet 'N' Greet tent to say hello!
All of the Mercury big cat-lovers who have been waiting to begin celebrating 50 years of the Cougar will be heading to Tulsa, Oklahoma, for the first of a half-dozen national 50th anniversary events this year being coordinated by the Cougar Club of America (CCOA). (Yes, the Cougar Club of America is now among the group of Ford Performance enthusiast clubs being promoted on FordPerformance.com.) The Mid-America Cougar Nationals April 21 and 22 will take over the Exchange Center at Tulsa's Expo Square, thanks to the efforts of Mid America Classic Cougars and the Lone Star Cougar Club. Check out the event web site for complete details.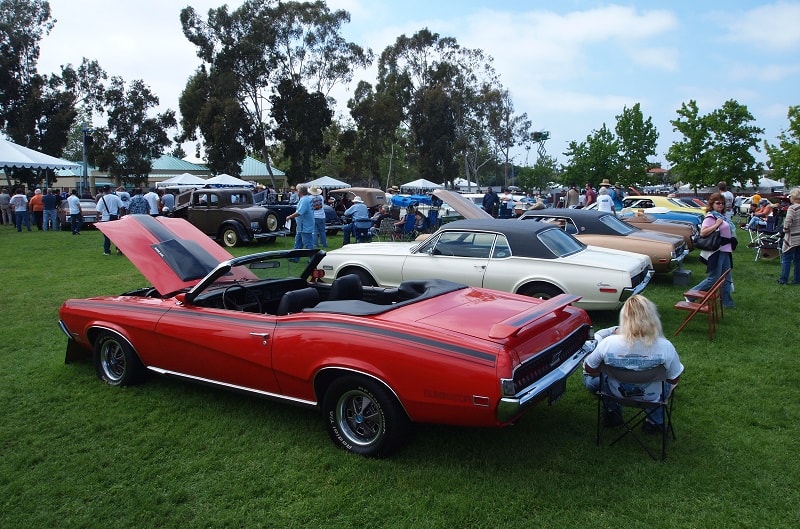 Prefer to spend your weekend on the track? Then you should sign up to attend the annual SVT Superfest April 21-23 at Virginia International Raceway in Danville, VA. There, the SVT Cobra Mustang Club will be celebrating 50 years of the Shelby GT500 with a weekend track outing and show. The event sports three days on-track at just $275 per day (or $595 for a three-day package if you register this weekend). The SVT Superfest car show is an all-Ford show, and it is not just for SVT's but for all Mustangs and Fords. Registration is just $20, with the option to pay another 20 bucks for lunchtime on-track parade laps, a participant favorite. And don't forget to take part in the big Saturday night banquet and raffle. Get all the info HERE.
If a more traditional big Mustang club show is more your speed, you have several to choose from over the April 22-23 weekend: On Saturday, April 22, the Mustang Club of Houston is presenting its "All Ford Car Show" at Ryan Ford in Sealy, Texas. That same day, the Smoky Mountain Mustang Club is hosting a "Mustang & Ford Powered Show and Shine" at Jerry Duncan Ford-Lincoln in Harriman, Tennessee. And if you'd like your non-Ford friends to join you, you can attend the "Southern Hospitality Open Car Show" at Edgewater Mall in Biloxi, Mississippi, organized by the Mississippi Coast Mustang Club. Click the club links for details.
If you plan to be out and about on Sunday, April 23, you can catch "Spring Fever 2017," a big show organized by the First Pennsylvania Mustang Club at the Ciocca Service Center in Quakertown, Pennsylvania. There's also the "12th Annual Mustang & Ford Spring Rally" hosted by the South Texas Mustang Club at Tipton Ford in Brownsville, Texas. And finally, there's the "13th Annual Spring All Ford Car & Truck Show" being put on by the Shenandoah Valley Mustang Club at the Shenandoah Ford Dealership in Front Royal, Virginia. The club sites have more information.
Before you go, are you looking to put that special show-quality touch on your Ford Performance or SVT vehicle? Ford Show Parts.com is now offering Ford Performance and SVT logo license plates and license-plate frames to proudly display your Ford Performance brand loyalty! Get online and check out our new, exclusive Ford Performance license plate frame, and for states that allow it, how about adding a custom logo plate up front as well? It's the perfect way to show your Ford Performance pride both coming and going!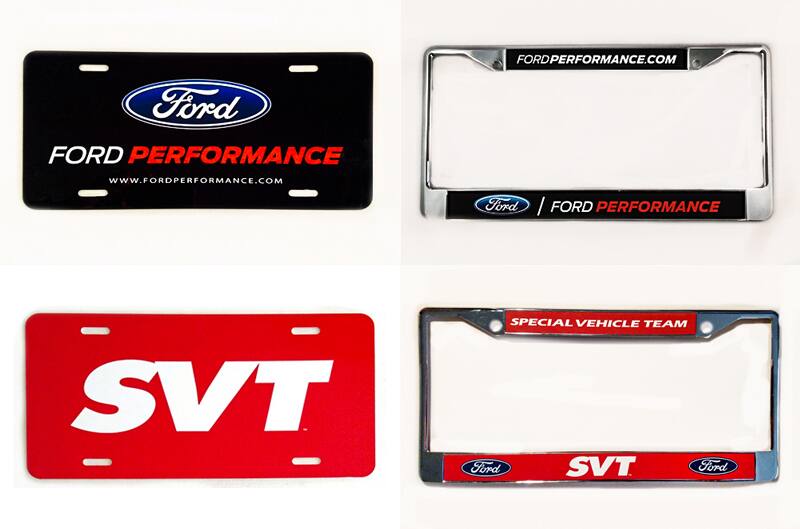 And if you happen to be an owner or fan of vehicles built under our previous Ford Performance brand, we also have an SVT logo license plate frame as well as an SVT-logo license plate available.
If you've been searching for the perfect item to hang on that big, blank spot on the wall in your garage or man cave, you simply must order our new, Ford Performance logo vinyl banner! It's a whopping 60 inches wide by 24 inches tall and comes with sturdy metal grommets in the corners for easy hanging. This banner also makes for a great gift for any Ford fan!
You can order these and many other exclusive items today from www.FordShowParts.com simply by clicking HERE or if you'd rather order by phone, you can call the Ford Performance Info Center at 1-800-FORD-788 during regular business hours.
Looking for other unique ways to showcase your Ford vehicle? Ford Show Parts also offers official Ford Motor Company "Certificates of Authenticity" for a wide variety of collectible high-performance Fords. All you need is your VIN and a valid credit card. Cost is $45, but members of any of the clubs listed on FordPerformance.com get a 15% discount if you call our Ford Performance Info Center to order. Don't delay – order today!
The great thing about owning a performance Ford is that – unlike with buying one of those "appliances" from the other automakers – when you buy a Ford, you buy into an entire enthusiast world! Ford cars and trucks have the kind of personality and style that forges a personal connection with their owners, who in turn celebrate ownership each year at hundreds of enthusiast events all over the country. Now's the time for you to start planning to attend some of the big-name annual events that have already set dates for next year. Here's our own "Top-10 List" of the biggest "can't-miss" Ford-based shows for 2017:
May 4-6: Shelbyfest (Jefferson City, MO); May 12-14: "Hoofbeats In The Desert" MCA National show (Tucson, AZ); June 2-4: Carlisle Ford Nationals & 50th Anniversary of Shelby GT500 + Mercury Cougar (Carlisle, PA); June 8-10: SAAC42 @ Indianapolis Motor Speedway (Indianapolis, IN); June 14-18: Mid-America Ford & Shelby Nationals (Tulsa, OK); August 19: Mustang Alley @ Woodward Dream Cruise (Ferndale, MI); August 20: "Mustang Memories" MOCSEM Show @ Ford WHQ (Dearborn, MI); August 24-27: MCA Grand National (Overland Park, KS); Aug. 29-Sept. 3: Sturgis Mustang Rally (Sturgis, SD) and; September 4-10: Mustang Week (Myrtle Beach, SC).

And there are many more great shows coast-to-coast, as big events are also being planned for the Mercury Cougar 50th Anniversary at Ford WHQ June 9-12, the American Muscle annual Mustang show on August 12, plus plenty of other top-notch venues sponsored by various Ford enthusiast clubs! We'll get you all the details in "Fast News" each week plus provide the best coverage in our Enthusiasts Newsroom because like you, we're driving Ford passion!