CORDOVA, Ill. – Since 2008, FocusFest has been the one Ford Focus and Fiesta event that unites all generations of Focus and Fiesta vehicles, owners and fans from all across the United States into a single setting. So what exactly does a FocusFest entail? Well, the three-day Ford hot-hatch celebration includes a day of tire-kicking mingling and a cruise, and two days of fun-filled auto racing events and show competitions where attendees compete for the fastest track time, as well as top honors at the car show for both stock and modified small Fords.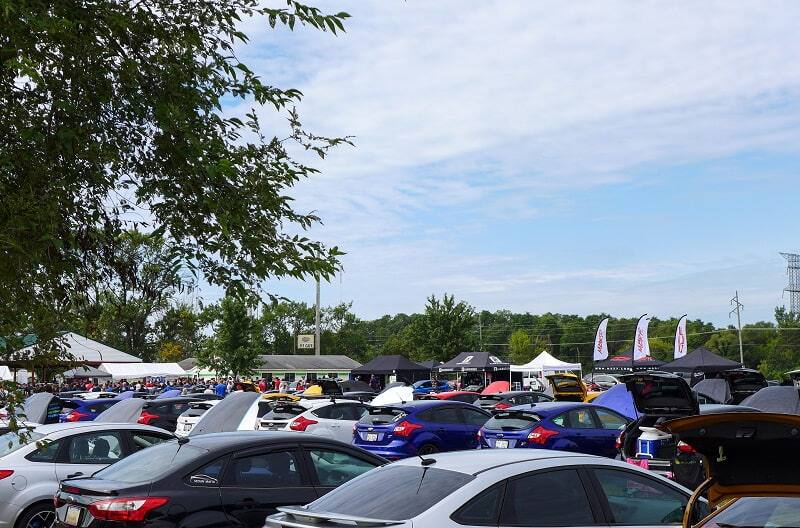 Now in its 10th year, FocusFest 2017 was held at Cordova International Raceway in Cordova, Illinois, over the September 1-3 weekend. The small town of Cordova is located right outside of Davenport, Iowa, nestled along the banks of the Mississippi river. It was here where more than 250 Ford Focus and Fiesta models from around the country gathered prior to the Labor Day holiday to celebrate the fun factor that is engineered into every Ford hot hatch. With over 450 event attendees present, America's youth car culture and comradery were as much on display as the cars themselves, which is part of the appeal that best describes the annual FocusFest.
Ford Performance enjoys participating at this event, which has continued to grow in size and scope each year – and this year was no different. The three-day fest opened on Friday September 1st, with a FocusFest mega meet-and-greet, with attendees gathering at the host hotel for kickoff party at the Davenport Best Western, sponsored by Ford Performance.
More than 100 Focus and Fiesta fans jammed the hotel's ballroom for an all-you-can-eat pizza party hosted by three Ford Performance staffers, who traced the performance history of the Focus and Fiesta nameplates with an informative presentation. That was followed by a trivia contest where participants got the chance to test their Ford knowledge in exchange for some cool Ford gear and door prizes. After the dinner presentation you could find all of the partygoers outside in the parking lot, talking with fellow Focus/Fiesta owners discussing their personal builds, modifications, likes, dislikes, and just having a good time before moving on to the next activity.
The scene outside the hotel resembled a car-culture gathering at a drive-in diner from the America Graffiti days, only with modern-day cars. Funny how no matter how the times change, young enthusiasts still like to hang out together to see and talk cars. Despite what you may have heard about millennials not liking cars, events like FocusFest show that America's love affair with the automobile is still going strong with our youngest drivers. As you might expect, the Friday night action didn't end there; many of these die-hard enthusiasts went on a midnight cruise to Cordova to participate in "Midnight Mayhem" at Cordova International Raceway. There, they stayed up into the wee hours of the night for some late-night drag racing with locals to see how their rides stacked up.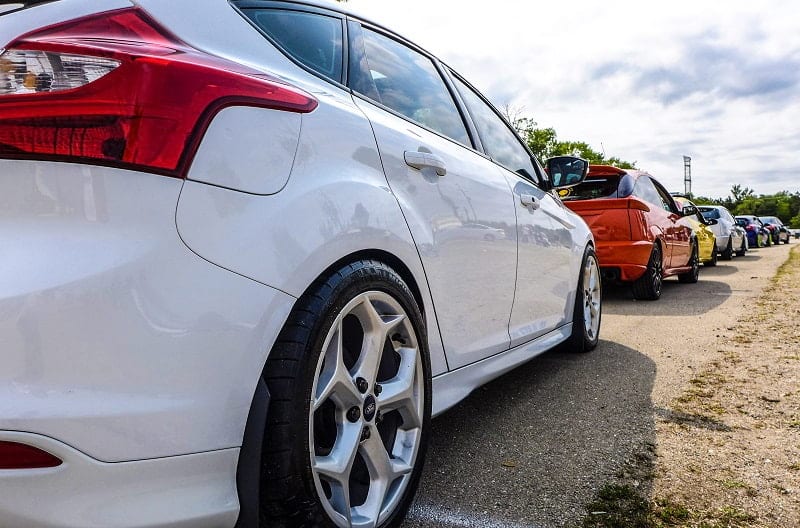 Saturday marked the official show day for FocusFest 2017. The morning drive route from the host hotel back to the racetrack followed a beautiful twisting and turning road that followed along the banks of the mighty Mississippi – a perfect way to start the show day. Saturday's events included car show judging, an exhaust competition, plus an audio competition, lots of drag racing, and even a Rotor Toss event (yes, a rotor toss, as in brake rotors flying through the air like an Olympic discus throw). The day ended with an awards banquet, and another gathering called the Fest After-party.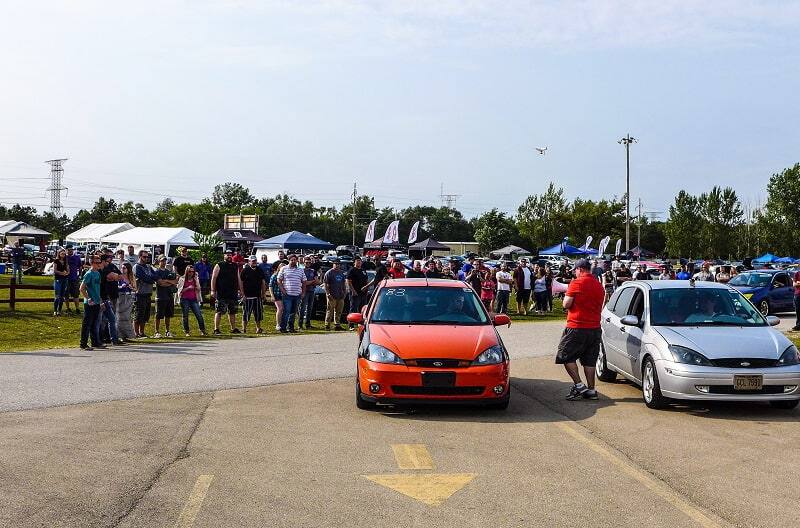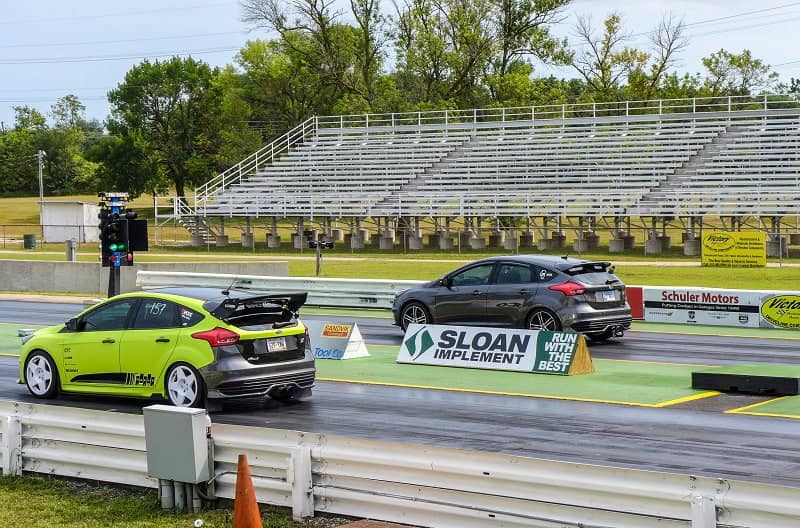 So where was one of the favorite Focus/Fiesta driving activities – an autocross – you might ask? No worries: Sunday morning show participants got a chance compete in a daylong SCCA event, an "AutoX" autocross, back at Cordova. For many attendees, this is what they came to FocusFest for in the first place, because this is where their cars truly excel.
Perhaps the biggest attraction for Ford compact and subcompact car fans is the fact that at this event, you'll see almost every conceivable customized Focus and Fiesta build, set-up, modification, and engine swap right on-site. No matter what kind of Blue Oval fan you are, you owe it to yourself to check out a FocusFest event and witness the kind of passion that the Focus, Fiesta, ST, RS and even old SVT's bring out in an emerging group of enthusiasts.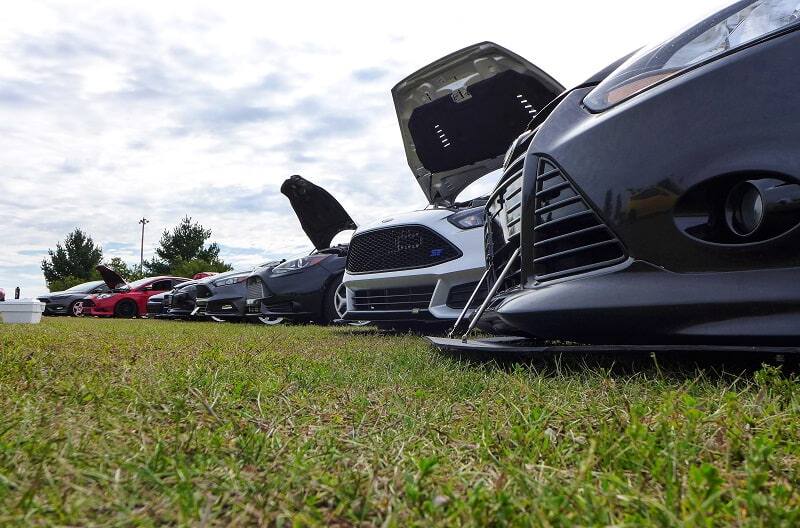 Ford Performance will keep following these kinds of Ford events that seem to be popping up all over the country as we witness how the ST brand appeals to a whole different kind of performance customer for Ford. Check out our previous coverage of FocusFest from 2016, 2015, 2014, and visit the Enthusiasts section of FordPerformance.com often to keep up with all the action. We'll see you at FocusFest 2018!
FORD PERFORMANCE PHOTOS