MONTREAL, QUEBEC (CANADA) – During a wonderful conversation with retired Ford VP of Design Jack Telnack it was suggested that I contact the Ford Performance communications team to relay a little-known fact about the life of the legendary Canadian racer Gilles Villeneuve. Any enthusiast knows that Villeneuve spent six years in Grand Prix racing with Ferrari, winning six races and widespread acclaim for his performances before being killed in a 140-mph crash during qualifying for the 1982 Belgian Grand Prix. But few know that Gilles was a true Ford guy.

That's right, Gilles Villeneuve was a BIG Ford fan, something that very few people are aware of, as confirmed by his wife, Joann, and daughter, Melanie (who have kindly supplied some of the photos on these pages) For "car guys," this truly is a great story within the awesome Villeneuve narrative, which remains as alive today world-wide as it was 35 years ago before Gilles' tragic F1 accident in Zolder, Belgium.

Joann Villeneuve now serves as Chairman of the Board for the Villeneuve Automotive Museum that we're actively developing in the Old Port of Montreal, with our planned opening in the summer of 2018. But more on that later.
In tracking the life of this great racer, here is a list of Ford vehicles that we can verify are a part of the Villeneuve story:
Ford Mustang 1967 Coupe
Ford Mustang 1971 Boss 351
Ford Bronco
Ford F-150
Ford F-250
As you can see from this list, Gilles not only loved (and raced) Mustangs, but he also loved his Ford trucks. There are a number of Ford episodes (all fascinating) in Gilles' life, including a Mustang Boss 429 in which he got married, borrowed in this case from a best friend for the occasion. And one of his first races (after drag racing in Mustangs for several years) was in a Formula Ford, a Magnum Mk III, built in Quebec.
The very first car that Gilles owned at age 17 was a 1967 Mustang Coupe with a 289 cubic-inch small-block V-8 and a four-on-the-floor. That's the car he first used in drag racing, and the one with which he won a number of trophies.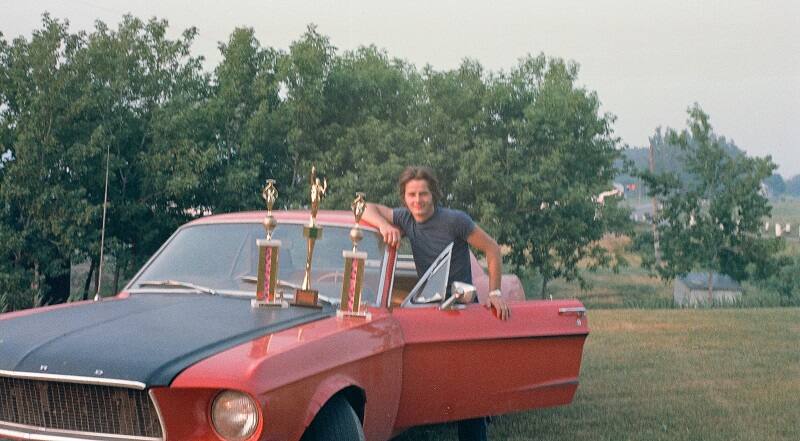 And that's also the one the Villeneuve Museum would like to restore as the emblem of our future facility, honoring his memory in a way largely unknown or forgotten of the integral narrative.
Mustang and the Villeneuve family crossed paths in a memorable way again last May, when seven-year old Delfine Beauregard of Terrebonne, Québec, attended her first antique car show alongside her mom and favorite chauffer, Julie. There, little Delfine publically professed her love for all things Mustang, especially of the vintage kind from the sixties.
As I told in a story that I wrote for Hagerty, the Mustang Club of Montreal, whose beauts Delfine had spotted almost immediately upon arrival at this, her initiatory event, were out in full force on that glorious morning – also their first time at this particular show. As Canada's largest Mustang gang with 600 active members and more than 5,200 international subscribers, the club has an owner base whose vehicles, both modern and antique, are among the finest in the country. One of the Club's leaders, Normand Slobodian, invited the two ladies for their first-ever Mustang spin in his customized (or "personalized", as he puts it) 2014 Mustang convertible. It was a proposition that couldn't be refused. And as Delfine and Julie's first such joyride came to a thunderous close, the ample smiles and abundant giggles filling the air spoke volumes.
News quickly spread among the other Mustang aficionados on site of little Delfine's presence and love affair with Ford's pony, with more offers of power runs rolling in. Richard Vilandré proudly owns a Marti Report-certified 1968 Mustang Fastback GT equipped with a 390-cid V-8 in Sea Foam Green. Vilandré was so taken by Delfine's keen interest in his one-of-one GT that, barely minutes later, he whisked Delfine and Julie away for yet another rubber-burning, roaring road test, resulting in with yet wider smiles. Proof positive that the young lady fancies the vintage especially.

Delfine even met with a celebrity that day: Melanie Villeneuve, daughter of the late Formula 1 icon Gilles Villeneuve.
"My dad was a Ford guy", said Melanie, "an aspect of his illustrious career which few, it seems, remember. Much is known about his extraordinary relationship with Ferrari, but the Mustang played an important role in his life too!"
Melanie had explained to the Mustang club members there that during the late sixties, Gilles modified a 1967 Mustang hardtop for drag racing use.

"He even borrowed a friend's 1970 Boss 429 for his wedding with my mom, Joann, that year," she added.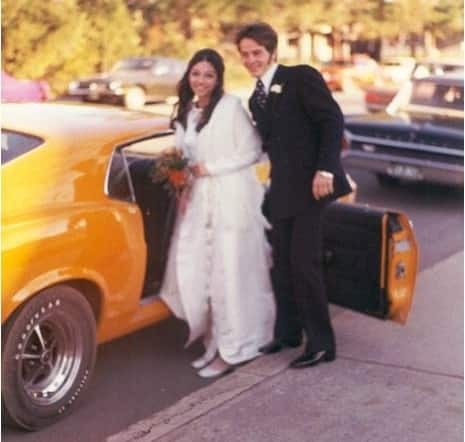 Given this historical Villeneuve-Mustang connection, Melanie was asked to present Delfine with a rare memento: Hagerty's "Mustang 50th Anniversary" Youth Judge's cap. But to qualify her for membership in the Montreal Mustang Club, by-laws permitted only full-fledged Mustang owners to become members, a condition set in stone dating back several decades. So the club president, Jean-Pol Ravert, awarded Delfine a 1967 Mustang Fastback GTA in Forest Green – a die-cast model, that is – thus making her a bona fide "owner." And second, the group's executive decided that Delfine would lead a newly created Junior Club as its Number One card carrying member – a first-of-its-kind initiative in Canada!
It's all proof positive that the excitement of Mustang that sparked the Villeneuve passion for cars still reaches Canadian youths – and that the family is still witness to this fondness for Fords. In fact, Gilles' wife Joann still drives – you guessed it – her beloved Ford F-150 pickup truck!
(Note: Michel Lamoureux is Founding CEO of the Villeneuve Automotive Museum, a unique global museum concept currently being developed in Montreal.)
FORD PERFORMANCE PHOTOS / COURTESY MICHEL LAMOUREUX & THE VILLENEUVE FAMILY