DEARBORN - We met Jason Van Hoy of Huntersville, NC, after we gave a Ford Performance presentation at a Carolina Regional Mustang Club monthly meeting while visiting the annual Charlotte Auto Fair this past spring. Although he's been a Mustang fan since high school, he's new to the club life – and once he told us how he's progressed from a stock '98 V-6 to a 424hp 2012 V-6 and now a '16 GT, we knew we had to share his first Coyote V-8 and stick-shift experience with you below:
"Hello, Ford Performance! I'm Jason Van Hoy of Huntersville, NC, and I wanted you to know that it was a real pleasure to experience your presentation during our Carolina Regional Mustang Club monthly meeting. I'm a long time Mustang fan and owner, but new to club membership. I'm already very excited to be a member and can't wait to join in on some of the events and shows.
"As you requested, here's a little bit of my 'Mustang story' – sharing it in the 'Fan Spotlight' on FordPerformance.com would make my year! I've only owned my Guard 2016 Mustang GT for a few months, but my goal is to make it a show car as well as a mean street machine! Of course, that means I have BIG plans!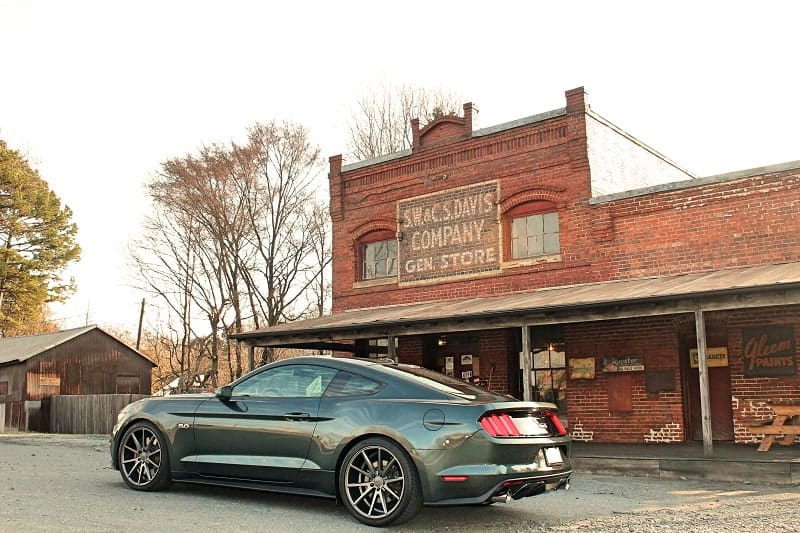 "I was a senior in high school, about to go off to college, when my parents decided to help me purchase a more reliable car so I could commute back and forth to school. My dad took me to the local Ford dealership to look at some '98 Escort ZX2's, and while they were attractive and I would have been thrilled to have one, I couldn't take my eye off of the silver 1998 Mustang V-6 that was parked right beside them. I had to have it – and by some miracle, my dad agreed it was a great car. (He must have seen the lust in my eyes.) The 3.8L V-6 had 32k on the odometer and was perfect, inside and out. I couldn't contain myself! First thing I did was drive to my best friend's house to share the excitement. That summer fling bloomed into a full-blown love affair of Mustangs.
"One hundred and fifty thousand miles later, I was ready for my second Mustang. I found a killer deal on an ex-rental car 2012 V-6 Premium in Lava Red Metallic. Such a cool color! There were some dings and the paint was trashed but I knew that I could bring the car back around. I had a full paint correction done, swapped out interior parts that where scratched, and then added almost every performance part I could get my hands on. I ended up with a V-6 putting out 424hp to the wheels that rode on rails and stopped on a dime. And it still got 30 MPG on the highway!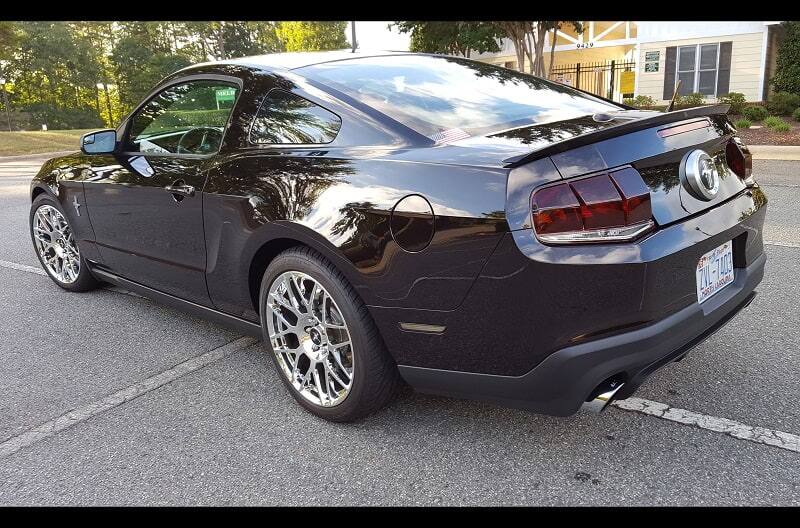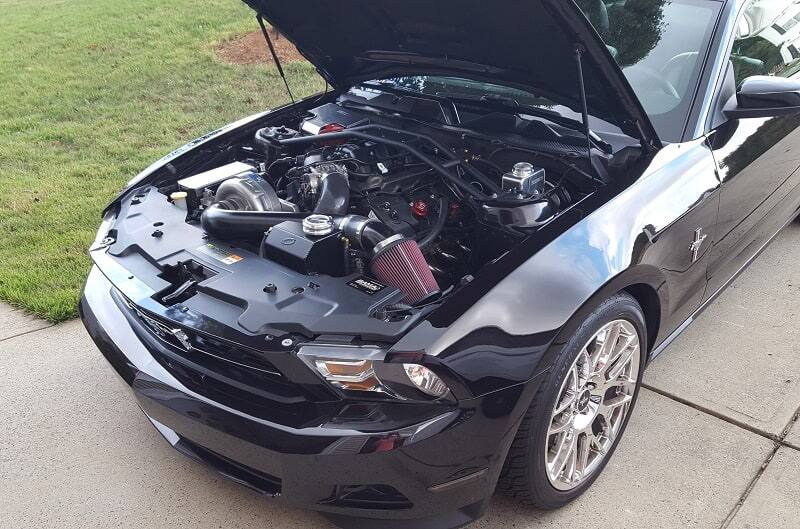 "The thing about me is that I like to progress things to their maximum potential. That includes myself as a driver. Because both my previous Mustangs where automatics, I knew I was missing that total connection with the car that only a manual transmission gives you. There is nothing like that V-8 rumble either, so my direction was clear: Got-to-have-it GT!
"I started the search for an S550 Mustang with both the Premium interior and the Performance Package. I found one after a few weeks' search and was lucky enough for it to be a Guard Metallic one. Another great color! The only catch was it was 112 miles away and I didn't know how to drive a manual transmission. I have never owned a stick-shift car or had the opportunity to be taught to drive one, but I didn't let that stop me! The good folks at County Ford in Graham, NC, gave me a 30-minute parking-lot lesson (and some time on a semi-empty service road) and I was off. Also, it was raining like crazy and most of Interstate 85 was under construction! I made it home in one piece … maybe with more gray hairs than I had initially, but at least safe and sound!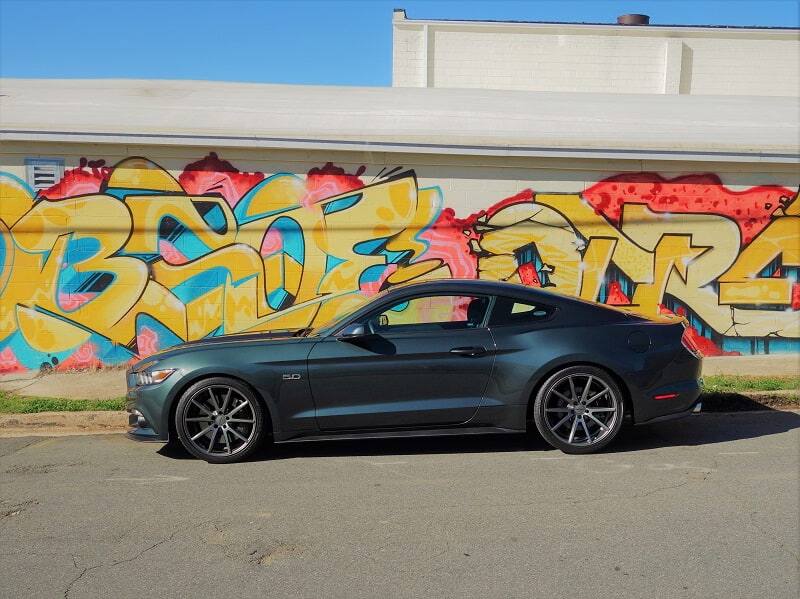 "Speaking of sound, I quickly started modding the car between driving lessons! The Ford Performance cat-back exhaust system sounds like the V-8 I had in my dreams! I also added the Ford Performance short-throw shifter, a set of 20-inch wheels and some new suspension components. My goal now is to learn the car well enough to participate in the Carolina Regional Mustang Club's Annual Performance Driving School. I'm very much looking forward to learning from some professionals and really finding out what my Mustang is capable of. Again, I really appreciate Ford Performance coming out and speaking to our club. I look forward to meeting you guys again soon!"
Editor's Note: One of the most popular features on FordPerformance.com and in our Fast News e-newsletter continues to be "Ford Fan Spotlight," where readers can send in their own reasons why they're fans of Ford Motor Company. You know who they are: Ford "superfans;" grassroots Ford racers; unique Ford vehicle owners; loyal Ford enthusiasts; notable Ford club people; special Ford families; and/or any avid supporter of Ford, Ford vehicles, Ford motorsports or Ford Performance who deserves a little bit of special recognition.

All you need to do to get you, your car or candidate considered is to send in a brief description (200-300 words or less) and a few photos (in .jpeg format, preferably 300 dpi) of a person (full name and hometown, please) and vehicle that you think Ford Performance should feature (and why) in the "Ford Fan Spotlight" for an upcoming installment of Fast News and posting on FordPerformance.com. Then email it to: AskTFR@Ford.com. Should you wish to send a video, you simply need to post it on www.YouTube.com (preferably 1-2 minutes long) and send in the link, along with a brief description, to that same AskTFR@Ford.com email address. We'll choose one submission each week.